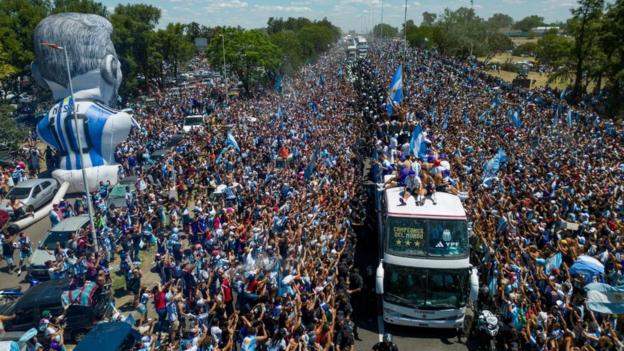 Argentina may well be waking up from its biggest hangover ever – at least if the number of revelers on the streets of Buenos Aires on Tuesday is anything to go by.
There is no doubt that Argentina were desperate to bring the World Cup trophy back home. The strength of feeling after each match during the tournament was testament to this, the dedication of the fans celebrating every goal scored.
Argentine pride is multi-layered. Yes, it's their third World Cup win and that's an achievement in itself, but it was more personal than that – in Lionel Messi they have a football star to rival the God-like Diego Maradona. How dare he not take home the only trophy he was missing – they wanted it for Leo.
But this is a country that also needed a bit of uplifting – a chance to dream, to smile, to have fun. Argentina is facing a never-ending financial crisis and with rising inflation, every day is getting more difficult. The tournament was a chance to switch off and bounce back – and wow, did they do that.
"We have suffered so much these past years," one Argentine told me. "It's the first time we've had something to celebrate."
Sunday's celebrations were huge – a spontaneous party in downtown Buenos Aires, repeated across the country. But Tuesday's celebrations far overshadowed them. It was, the country's media say, the biggest party in the nation's history.
"Today people don't care if they eat or not," said another celebrant. "If people are happy and joyful, money doesn't matter. People are happy to spend it today."
With around five million people on the streets of Buenos Aires, they started early – Even at 8am there were dozens of people dressed in their Messi 10 jerseys, already having a kipka on park benches, before the event.
It didn't take long to realize that few people would actually ever see the parade go by – a small bus carrying the team versus an entire nation clamoring to see them. But this mattered very little to the majority of Argentines – this was about enjoying the sun, a public holiday and the moment – the Argentine moment.
With so many people crowding around the Obelisk in downtown Buenos Aires, it became clear that the parade would never be able to get through the dense crowds. No matter, when the parade changed course, people ran to them. When the fighter jets did a fly-past, the revelers cheered. They cheered again when the team abandoned the bus and took a helicopter to wave at fans from afar.
The team was the reason for the party, but in some ways it was just the spark – the flame of celebration continued to burn and will set for a while longer.
This is a deeply proud, but troubled country. Argentinians are always teased for claiming to be more European than their South American counterparts. But this victory over France made them very proud to be South Americans. This has been contagious and has brought the area together – even if it's short, it's welcome.
And like all good parties, they usually end in chaos – over-excited fans jumping on the team bus, drunken Porteños and piles of rubbish made that clear.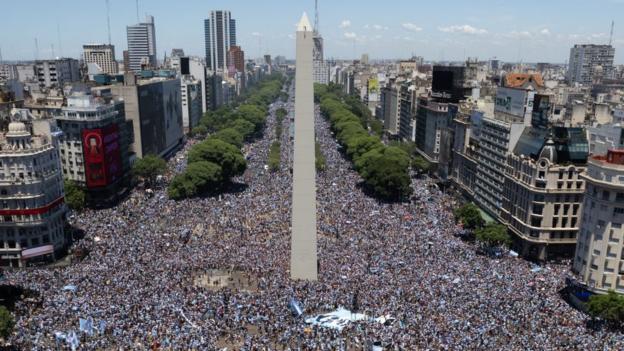 Get the latest results and goal alerts for any team in the FIFA World Cup by downloading the BBC Sport app: apple – Android – Amazon




Get your daily dose of FIFA World Cup reaction, discussion and analysis with World Cup Daily on BBC Sounds