In recent years, the US military has looked to the gaming industry in an effort to reach a younger audience for recruitment. One of those ways is to reach audiences via streaming, primarily through the military's own esports team. However, new internal documents have shown that there were once plans to pay various different organizations and Call of Duty streamers to help increase its shares among young people, especially women and Black and Hispanics.
That's according to Vice, which shared internal military documents from Motherboard detailing several streamers and organizations and how much money they would receive. According to the document, the bulk of those millions would have gone to a few esports leagues, namely the Call of Duty League esports tournament and Twitch's Historically Black Colleges and Universities Showdown.
Related: Pokemon and Call Of Duty have the exact same problem
These documents also reveal the names of several popular Call of Duty streamers who would have received hundreds of thousands of dollars had the scheme gone ahead. These streamers were apparently to be offered money to create original content "that would showcase the wide range of skills the Army has to offer." They were also to be asked to "familiarize themselves [their] fans about the values ​​and opportunities of the Army', and also could possibly have organized tournaments involving soldiers.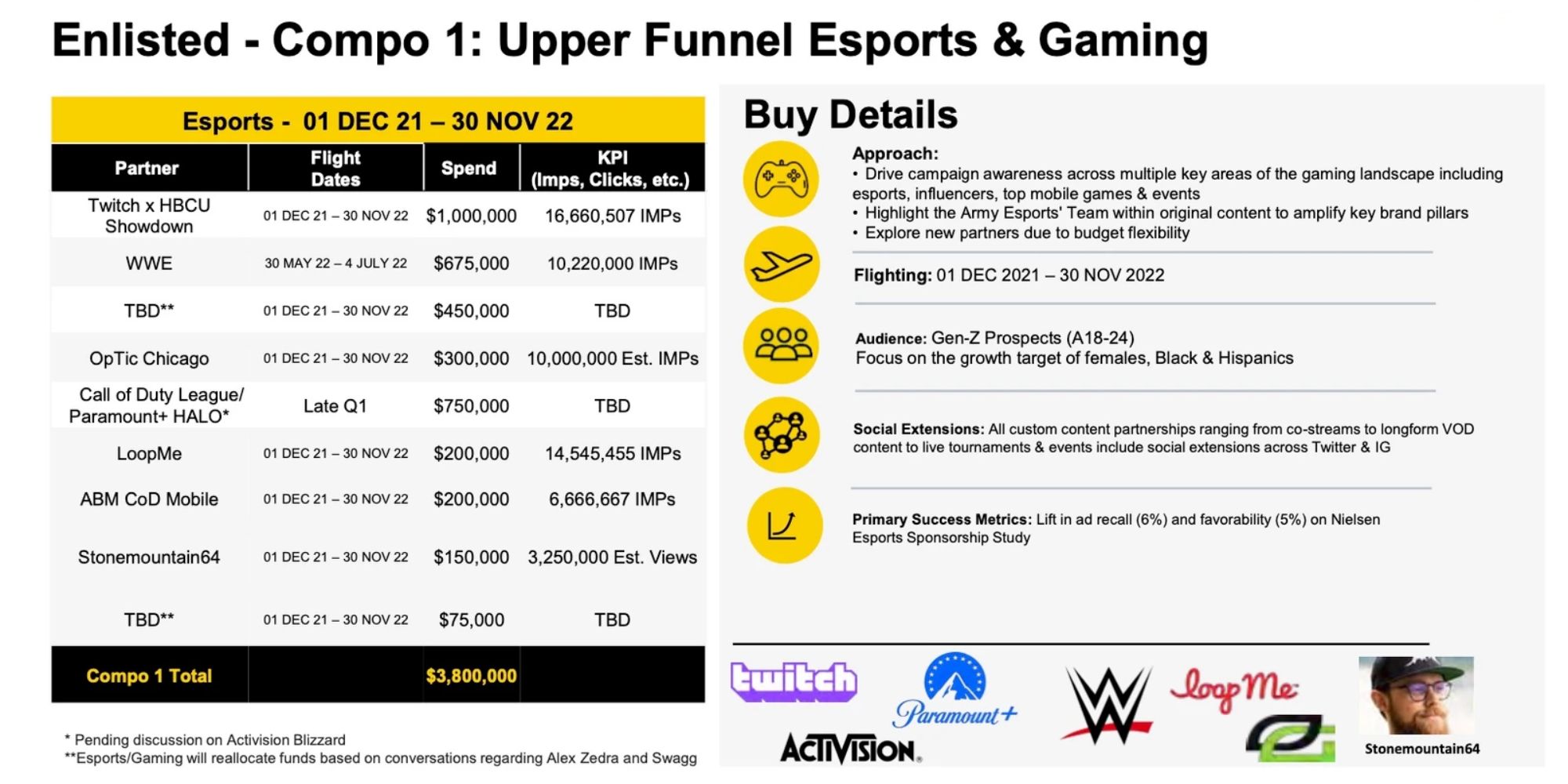 Of the streamers, Stonemountain64 would be one of the biggest beneficiaries, having been offered $150,000 for their services. YouTube streamers Swagg and Alex Zedra were also said to be offered money, though it's unknown how much or whether or not they'd be interested. It's also worth noting that the military also planned to spend $300,000 on OpTic Chicago, an esports team they've worked with in the past.
Although it raises questions about ethics, these offers are not surprising. It's not as surprising as some of the other organizations that were to be approached, however, as those documents also reveal that the military was planning to spend $675,000 on a sponsorship with WWE. There were also plans to spend another $600,000 on gaming media outlet IGN and another $500,000 on the now-cancelled G4 TV. We don't know in what capacity the military was going to work with these organizations, but it is curious that they were going to be approached in the first place.
Fortunately, none of these deals will see the light of day. From what Vice tells us, those plans were scrapped after stories of all the sexual harassment controversy surrounding Activision Blizzard broke. With Call of Duty rights likely to change hands soon due to the ongoing acquisition, it's quite possible that these kinds of deals will now have to go through Microsoft, who has a much bigger reputation to uphold. However, it's another example of the US military trying to recruit through gaming, and we'll see more efforts in the future.
Next: Forza Horizon Is Secretly A Game About A Billionaire Cult Leader