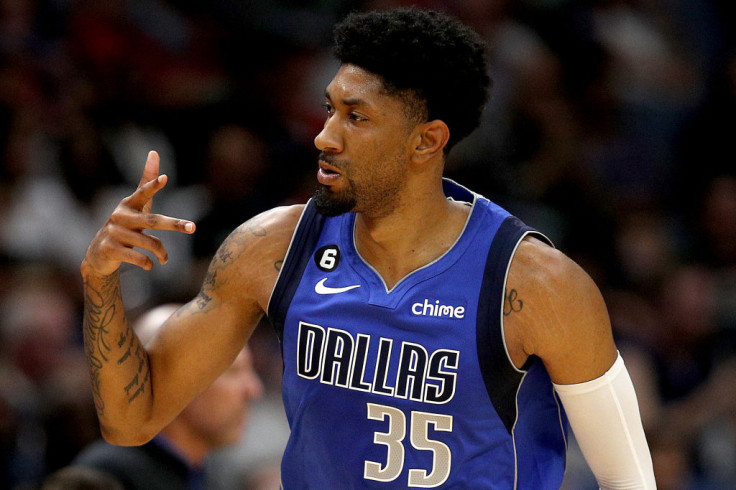 BASIC POINTS
Christian Wood is Adidas' newest endorser
Wood is expected to move up to the starting spot at some point this season
He joins Luka Doncic as the only Mavericks players to have shoe deals
From being an undrafted player to an upcoming future star, this is what best describes the professional basketball career of Christian Wood, who now plays for the Dallas Mavericks.
The 27-year-old got to where he is right now as his value rose.
There is no doubt that he is one of the NBA's new stars and with that comes deals.
Wood was revealed on social media that he landed an endorsement deal with Adidas.
That means he'll join other endorsers for the shoemaker, a list that includes James Harden, Damian Lillard and Donovan Mitchell.
Additionally, he becomes the second player on the Mavs roster to have a shoe deal, the other being Luka Doncic who signed with Jordan Brand.
The Slovenian guard's first signature shoe was released earlier this year.
That doesn't mean Wood will also be getting his boot anytime soon.
Regardless, it's a step in the right direction, another feather in his cap as his NBA career continues to blossom.
The former UNLV Runnin Rebel got his break when he signed with the New Orleans Pelicans in March 2019.
This was the same year that Anthony Davis expressed his desire to be traded to the Los Angeles Lakers.
He averaged 16.9 points, 7.9 rebounds and 1.3 blocks in eight games. But his stock rose during the 2020-21 season with the Houston Rockets.
That year, he played in 41 games and averaged 21 points per game, 10.1 rebounds, 2.3 assists and 1.2 blocks in 32.3 minutes of action.
He spent two seasons with the Rockets, averaging 19.1 points, 9.9 rebounds, 2.1 assists and one block.
Wood was traded to the Mavericks last June in exchange for Boban Marjanovic, Trey Burke, Marquese Chriss and Sterling Brown, as well as the draft rights to Wendell Moore Jr.
So far in six games with the Mavericks, Wood is coming off the bench averaging 16.7 points and 8.2 rebounds.
But since he proved his worth as a starter last season with the Rockets, it wouldn't be surprising to see the 6-foot-9 forward thrust into the starting lineup by coach Jason Kidd soon.