PHILADELPHIA — Kyle Tucker danced from second base following a leadoff double to right field. It was the second inning and the Astros were putting pressure on Phillies right-hander Aaron Nola.
Yuli Gurriel, inside the box, sent a routine ground ball to Phillies third baseman Alec Bohm. Tucker, with Bohm sweeping the ball right in front of him, faked going to second. Then, just as Bohm threw the ball to first, Tucker took off for third. Gurriel was out at first and Tucker's wheels and heads-up play allowed him to slide safely to third.
"Runs are hard to come by," Tucker said of his thought process during that game. "We're facing some really good arms here in the postseason. I was trying to get an extra 90 feet right there and with Julie throwing out at first, it was going to be one with a man on third. So anything we could do to try to get the extra 90 feet, we're going to try to do that and be aggressive with it, but still be smart with it."
Houston did not score a run in that period. Nola ended up escaping a couple of roadblocks before the gates opened. But that aggressiveness from Tucker advancing to third represented how badly the Astros wanted to even get to the World Series again, just as they did after falling behind 1-0.
"That's the thing: we get punched in the face the first game, then we win the second game, we get punched in the face the third game, then we win the fourth game," said Chas McCormick of the Astros. "So tomorrow it's going to be a dogfight. It's a really big game tomorrow."
The Astros finally broke their 16-inning scoreless drought in the fifth inning. They collected three straight singles from Nola to load the bases with nobody out. Phillies manager Rob Thomson, continuing his aggressive management in this series, pulled Nola in favor of one of his best relievers, southpaw Jose Alvarado, with dangerous slugger Yordan Alvarez at the plate.
Alvarado's first pitch of the night drilled Alvarez. And just like that the Astros put a run on the board for the first time since the fifth inning of their Game 2 win over the Phillies on Saturday night at Minute Maid Park.
"We had a good mindset that worked every at-bat," Tucker said. "We were very competitive in the box tonight."
Although the scoreless drought uncharacteristically ended on a bases-loaded hit, what followed was, well, typical Astros.
Down in the count, 0-2, Alex Bregman showed off his quick bat and jumped on Alvarado's 100 mph sinker for a two-run double to right field that extended the Astros' lead to 3-0. Tucker's sacrifice fly to center field then put another run on the board. Gurriel's RBI single to left field capped the offensive barrage, putting the Astros ahead, 5-0, in the fifth. No domestic routes needed. it was old school and infectious little ball.
Astros lead 5-0 after Alex Bregman's two-run double and Yuli Gurriel's RBI single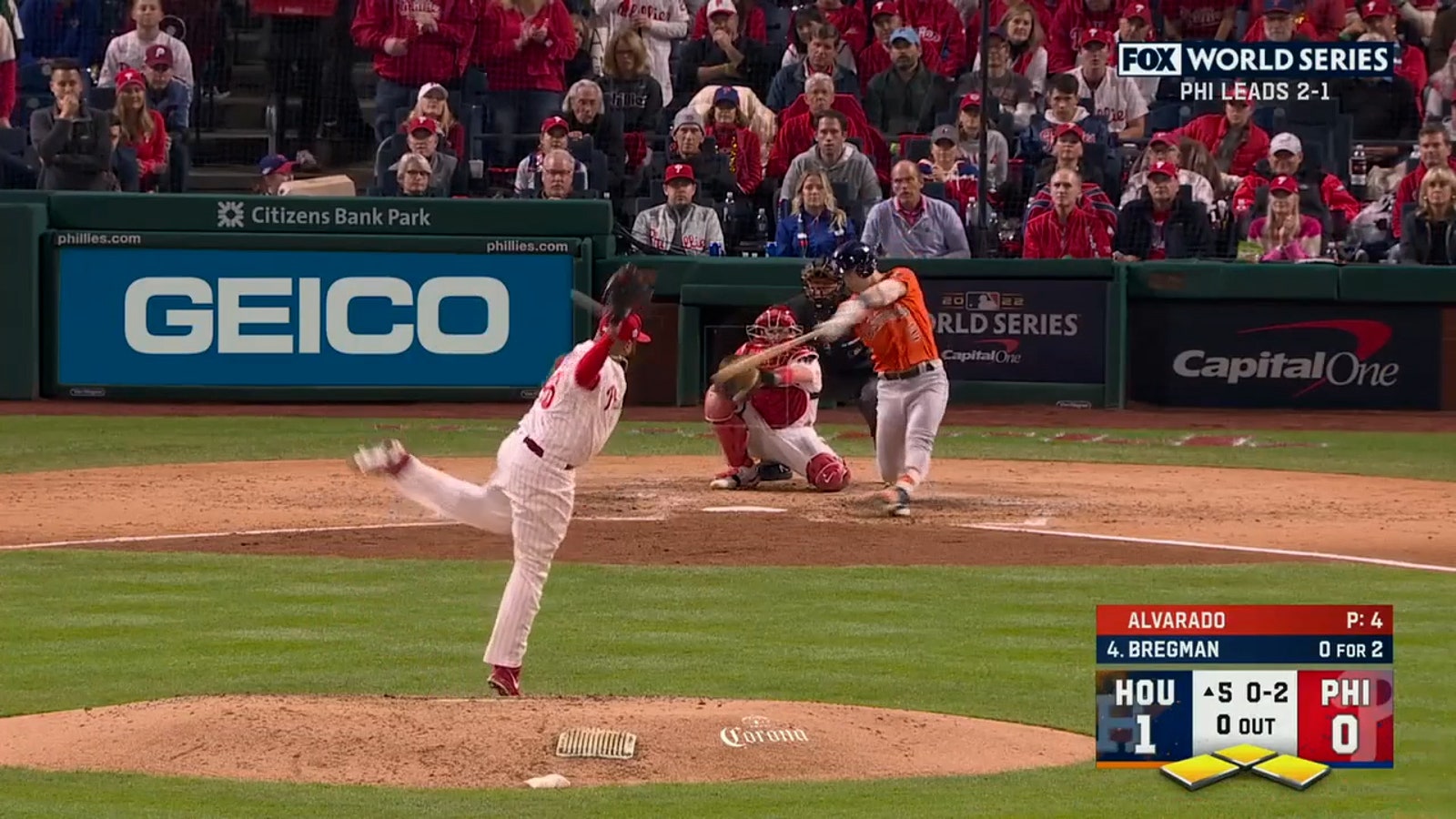 The Houston Astros took the lead in Game 4 after scoring five runs in the top of the fifth inning against the Philadelphia Phillies off Yordan Alvarez, Alex Bregman and Yuli Gurriel. The World Series is now tied 2-2.
"It was kind of an innings," Bregman said. "Guys are picking up good quality at-bats, swinging at pitches that were good pitches to hit, each guy not trying to do too much, just staying in."
By the end of the 27 outs, those five runs were more than enough for the 'Stros to win. Led by Houston's most impressive starter, 25-year-old right-hander Cristian Javier, and the three relievers behind him, the Phillies were no-hit by the Astros.
The 45,693 at Citizens Bank Park fell silent in an eerily quiet park that, just 24 hours earlier, was shaking with electricity. But the Astros lineup that appeared in Tuesday's Game 3 loss went reckless and chased pitches without putting pressure on the Phillies' pitchers. To wash away that feeling, Houston's play on Wednesday was simple: attack early and put together better at-bats.
In Game 4, the Astros' relentless identity returned. These were the Astros who didn't miss golden scoring opportunities. These were the Astros who not only punished mistakes, but also punished quality pitches. These were the Astros who, after being shut out the night before, clawed their way back into the World Series at 2-2 and, in doing so, ensured that MLB's final and highest-scoring game of the year would return home. turf in houston.
Jeremy Peña gives his POV from shortstop during the Astros' No-Hitter combine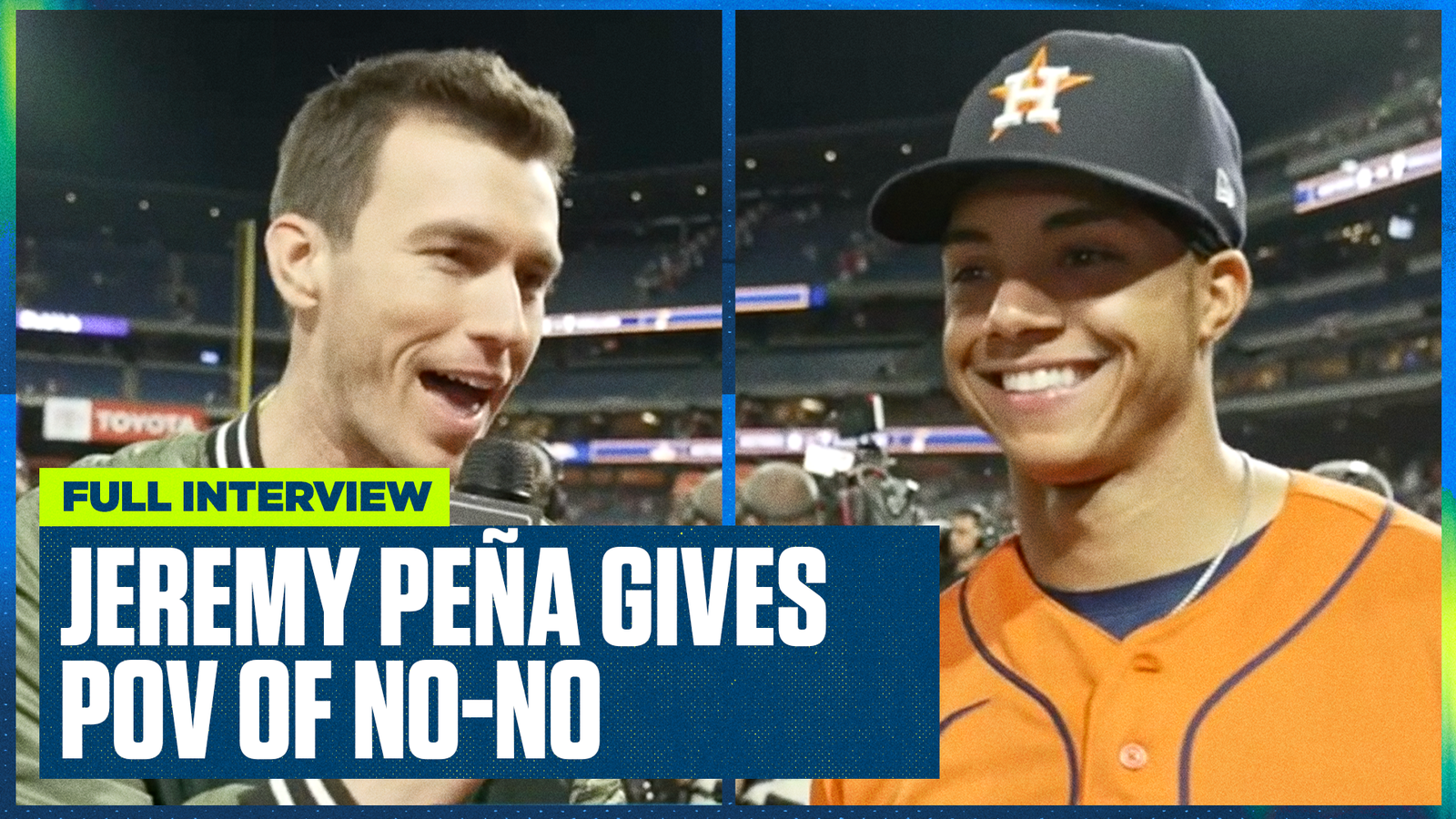 Houston Astros shortstop Jeremy Peña describes what the team's no-hitter was like from his perspective.
However, the Astros have only scored those five runs in the last 21 innings pitched. In Thursday's pivotal Game 5, Houston's pitchers will look to continue adding to that total against Phillies starter Noah Syndergaard.
"Overall, we did a great job of putting together great at-bats and swinging at good pitches today in general," Bregman said. "I know we only scored five runs, but I thought our swing decisions were a lot better."
Deesha Thosar is an MLB writer for FOX Sports. He previously covered the Mets for the New York Daily News. Follow her on Twitter at @Deesha Thosar.
---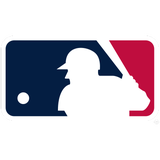 Get more from Major League Baseball Follow your favorites to get information on games, news and more
---
---